LVT Flooring in Dubai
Luxury Vinyl Tiles (LVT) Flooring and Luxury Vinyl Planks (LVP) are the fastest-developing trends in the construction flooring industry. They are environmentally friendly and provide better indoor air quality (IAQ) performance. They are ideal for situations requiring low maintenance and easy installation. They provide extra cushioning for less impact and a softer feel. This is in addition to acoustic features that absorb more noise than tile, wood, and laminate. Suitable for areas where extreme temperature changes occur and underfloor heating is required. They are an established solution for high, medium, and low-traffic applications. Restyle providing preimium LVT Flooring in Dubai and all over UAE.
LVT (luxury vinyl tile) flooring is the ideal combination of everything a commercial flooring product should be: elegantly designed, highly durable, and simple to maintain. With LVT flooring, you can replicate the look of natural materials while using a product that is designed to withstand commercial environments. Luxury vinyl tile eliminates the need to compromise high-quality design for industrial utility.
Restyle is one of the leading LVT Flooring Company in Dubai. We pride ourselves on delivering exceptional quality and unmatched craftsmanship. Our extensive range of luxury vinyl tile options offers the perfect blend of style, durability, and affordability. For more details feel free to contact us today.
The Luxury Appeal of LVT Flooring
LVT flooring, often referred to as the "luxury vinyl," offers the authentic look and feel of natural materials like wood and stone. It is a flexible option for both homeowners and businesses due to its ability to represent different textures and patterns.
At Restyle Dubai, we're proud to offer a wide range of LVT flooring options designed to elevate your space and meet your unique requirements.
LVT Flooring Benefits – Luxury Vinyl Tiles Restyle Dubai
Durability
LVT flooring is extremely tough and long-lasting. The floor has a built-in scratch and stain guard. LVT is far more durable than wood, tile, or laminate flooring, which can easily wear due to daily wear and tear.
Waterproof
Most types of LVT are completely waterproof, making them ideal for wet areas such as kitchens and bathrooms.
Authentic Designs
Another advantage of LVT is that there are an infinite number of designs to choose from. All have a genuine appearance and provide a realistic representation of wood flooring, ceramic or stone tiles.
Adaptability
LVT is extremely adaptable and functional. Because of its durability, robustness, and waterproof properties, it can be easily installed in any room of your home. It can withstand the high traffic of busy areas such as hallways and living rooms. It can be used with underfloor heating and in rooms with fluctuating temperatures, such as conservatories. As previously stated, it can be used in bathrooms, utility rooms, and kitchens because most types are completely waterproof.
Easy to maintain
LVT requires very little maintainance. It doesn't require much maintainance or care. All you have to do is keep it clean. Sweep the floor regularly and then use a spray mop to remove any stubborn stains.
GET IN TOUCH
Get a Quote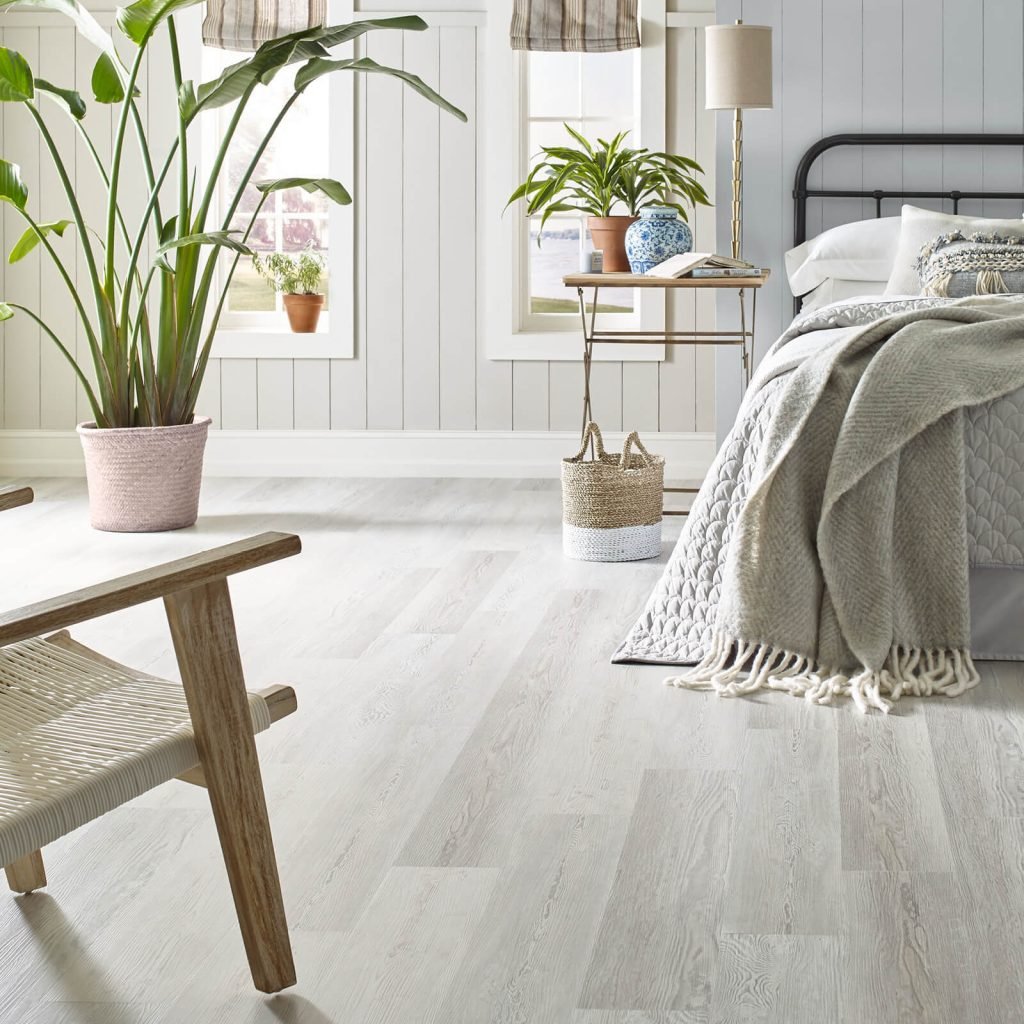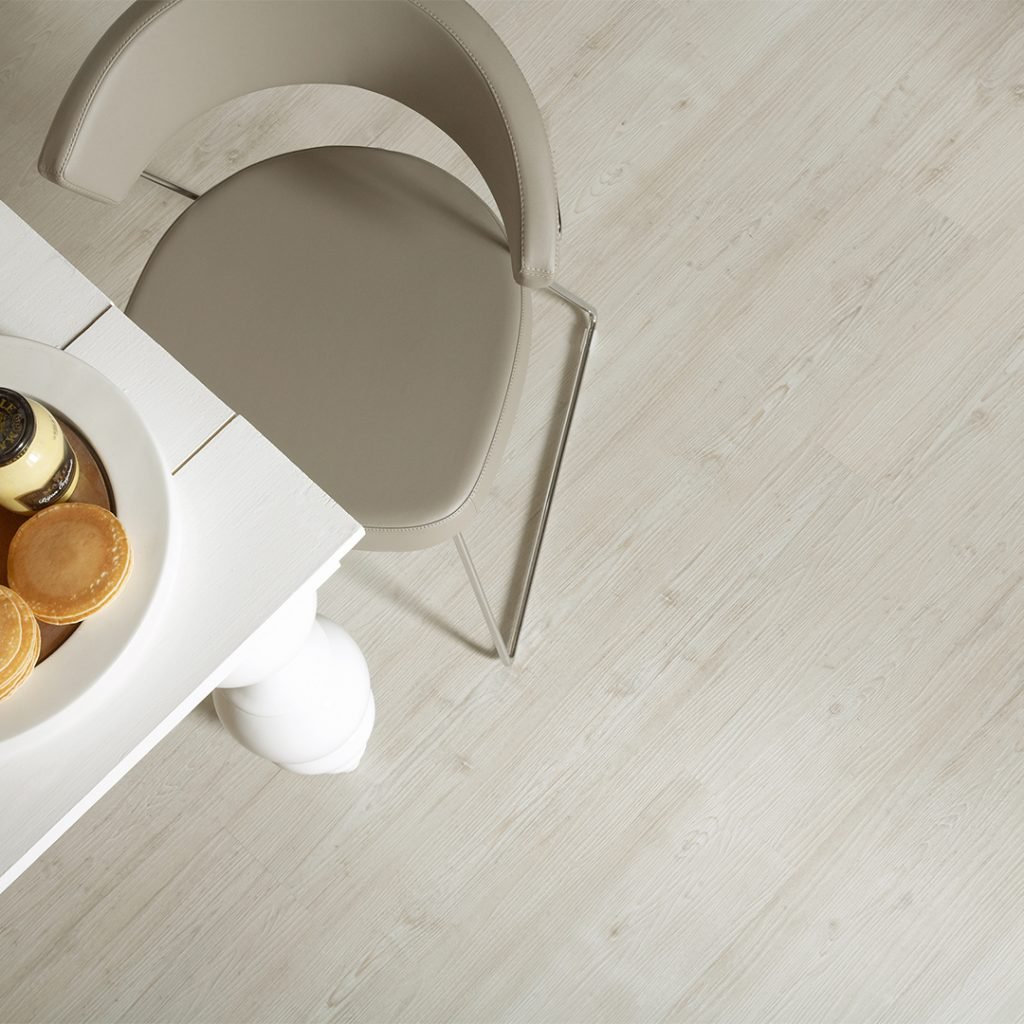 Luxury Vinyl Flooring Installation in Dubai – LVT Flooring Contractor & Supplier
As the best LVT flooring company in Dubai, we provide all of our customers with fastest installation services. You do not need to be concerned about its installation. For you, we have a team of expert and experienced flooring installers. If you want a good mix of practicality and authenticity, luxury vinyl tile (LVT) flooring is the way to go. LVT flooring has the appearance of real, all-natural wood without the drawbacks. When compared to sheet vinyl, they also allow for a more creative aesthetic.
We source our LVT flooring materials from reputable manufacturers known for their craftsmanship and innovation. Our team of experts is dedicated to delivering precision installation, ensuring that your LVT flooring not only looks stunning but also performs flawlessly.
How to Install LVT Flooring
Vinyl plank flooring can be installed over concrete, hardwood, tile, or existing vinyl flooring. It will work as long as the surface is flat and clean. Because laminate can be uneven, it is not recommended that vinyl be laid over it.
LVT Preparation

Before you lay your vinyl tiles, they must acclimate. Simply leaving them in their box in the middle of the room for 48 hours will suffice. The temperature in the room should be kept constant and normal.
Make certain that the floor is as clean as possible. Sweep, vacuum, and wash the floor before letting it dry. For a flawless installation, it must also be precisely flat and level. Restyle has a comprehensive guide to prepping your floor that applies to all LVT flooring.

Positioning

It is recommended that you begin putting your flooring near the center to achieve a beautiful, symmetrical floor. To find the center, measure the width and length of the space and draw a chalk line halfway across both; the point where the lines meet is the room's center.
Begin by putting two lines of tiles at right angles to each other from the center of the room to form an L shape. Lay these on the floor without adhesive (or without peeling the back layer) before sticking them down. This is used to ensure that your floor is laid at the proper angle – verify that the edges line up with the wall.

Vinyl Fitting

Once our tiles are in place, start sticking them down if using glue-down vinyl. This will entail either peeling off the nonstick backing or adding a tiny coating of adhesive to the floor beneath the tiles. A spreader should be used to apply the adhesive. If glue leaks up between the tiles, you've probably used too much adhesive. Please read the adhesive manufacturer's instructions as different products may have different requirements.
After installing a portion of tiles (starting from the center of the room), apply pressure and roll over them with a floor roller or rolling pin to secure them to the floor.
FAQ – LVT Flooring Dubai
What Is Vinyl Flooring?
Vinyl is a particular sort of plastic. Vinyl flooring is created by overlaying various materials, including vinyl. The most common vinyl floor has four layers: a felt, fiberglass, or vinyl backing; a core layer; a decorative layer with the flooring pattern; and a final "wear layer" on top to protect the flooring from scratches and scuffs.
Is vinyl plank flooring waterproof?
Vinyl plank flooring will be totally water resistant if it has a core component consisting of wood plastic composite (WPC), stone plastic composite (SPC), or 100% vinyl. As a result, it is a great choice for wood-look flooring in basements, laundry rooms, kitchens, and throughout your house.
What's the difference between LVT and sheet vinyl?
There are some significant distinctions between LVT and sheet vinyl. One advantage is that LVT is available in a wide range of plank and tile sizes, allowing you to match colors, designs, and laying patterns to your specific space. Sheet vinyl, on the other hand, comes in a roll and is normally put in one or two large pieces. LVT also features a thicker wear layer than sheet vinyl, making it significantly more robust and resistant to scuffs and scratches.
Are you providing LVT Flooring in Dubai?
Yes, Restyle is one of the leading LVT flooring company in Dubai. We provide LVT Flooring installation and repair in Dubai and all over UAE. Restyle offers an exclusive range of residential & commercial floorings in UAE.
Luxury Vinyl Tile LVT Flooring Company Dubai – Contact us
Whether you're revamping your residential space or renovating a commercial property, our LVT flooring is designed to elevate any interior with its stunning aesthetics and long-lasting performance. With our expert team of professionals, we are committed to providing top-notch customer service and ensuring a seamless flooring installation process. Trust us for all your LVT flooring needs and experience the elegance and professionalism. Contact us today to explore our exquisite collection and take the first step towards transforming your space into a true masterpiece.
Restyle is here to assist you when you're ready to select a premium vinyl floor covering for your own house. Our pleasant, professional associates are ready to work to meet all of your needs, so please let us know when you'd like to begin. When you're ready to get started, give us a call!
Gallery – LVT Flooring
LVT flooring comes in various formats, including planks and tiles, and can be installed using different methods such as glue-down, click-lock, or loose-lay. This versatility allows for creative design possibilities and enables LVT to adapt to your specific needs and preferences. Whether you're upgrading your home, renovating your office, or designing a commercial space in Dubai, LVT flooring is a versatile choice. It's equally suited for residential and commercial applications, offering a seamless transition from one setting to another. While some hard flooring options can feel cold and uninviting, LVT offers a different experience altogether. Its soft and cushioned surface provides comfort underfoot, making it ideal for homes, offices, and commercial spaces where people spend a significant amount of time on their feet.
Our Other Flooring Options For You